Meet Sam! Sam is a go-getter and we're lucky to have her on our team! She studied ceramics at college so she brings a special talent and knowledge to Glazed!  Favorite thing to do in your spare time? I love to read! I have a huge collection of books and I'm always adding new ones! Favorite thing to paint at Glazed? I loved painting the Wizard Hat! I turned it into a Sorcerer Mickey hat Favorite painting technique: I love marble but recently I have been getting into the galaxy effect Favorite color: Pastel yellow or blue. I love spring...
---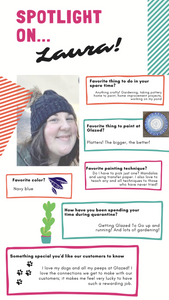 Meet Laura! As the manager of Glazed, Laura doesn't need much introduction! We have all seen her smiling face and been recipients of her patient teaching skills! Here a few special things you might not know about her: Favorite thing to do in your spare time? Anything crafty! Gardening, taking pottery home to paint, home improvement projects, working on my pond Favorite thing to paint at Glazed? Platters! The bigger, the better! Favorite painting technique: Do I have to pick just one? Mandalas and using transfer paper. I also love to teach any and all techniques to those who have never...
---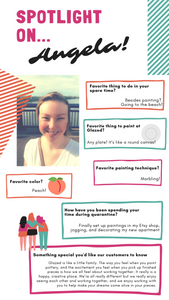 Meet Angela!  She's been a Glazed paint hostess from the beginning in addition to her day job in the science field. When we asked her a bit about her interests, here's what she had to say: What is your favorite thing to do in your spare time? Besides painting? Going to the beach! Favorite thing to paint at Glazed? Any plate - it's like a round canvas! What is your go-to painting technique? Marbling Favorite color? Peach How have you been spending your time during quarantine? I finally set up paintings in my Etsy shop! I have been doing a lot...
---
We remain committed to creativity, safety, and fun! In addition to complying with the state's reopening protocol we have put the following measures in place for the well-being of our guests and staff: Hours: Monday through Friday 10:00 am - 6:00 pm Saturday and Sunday 10:00 am - 5:00 pm Seating is limited to 50% of our normal capacity in order to maintain social distancing There is a maximum group size of 8 guests. Reservations are required for groups of 5-8 guests. Call 860.430.6255 to reserve your table!   Appointments limited to 2 hours during busy times  All customers must wear masks...
---
Hi there! My name is Laura, I am the studio manager at Glazed Pottery. I live in Manchester, CT with my fiancé and our two dogs. Although I am not a classically trained artist, I love immersing and teaching myself any and every form of art. I have dabbled in everything from linocut print making, to watercolors, plant propagation, knitting, ceramics, baking and more! Some of you may know I had a career in baking before I came to work for the Reid family. I have always loved art but never felt I was good at it. When I was about...